Franchise Opportunities
Global Franchise Group, LLC is a strategic brand management company with a focus on franchising. The company owns a portfolio of franchise brands that includes six primary quick service restaurant (QSR) franchise concepts: Great American Cookies®, Hot Dog on a Stick®, Marble Slab Creamery®, MaggieMoo's Ice Cream & Treatery®, Pretzelmaker® and Round Table Pizza®. The brands below represent those currently available for franchising.
To learn more about available franchise opportunities and download an application, click on one of the logos below or give us a call at 1-800-524-6444
GREAT AMERICAN COOKIES®
Request Franchise Information
Visit Great American Cookies Franchise
Known for signature Cookie Cakes, trademark flavors and menu of delectable products baked fresh in store, Great American Cookies® has set the standard for gourmet cookie sales in a fun, celebratory environment. For over 35 years, our tried and true business model has allowed franchisees to build long-term, successful businesses. We Share the Fun of Cookies® worldwide with locations in the United States, Bahrain, Guam, Saudi Arabia and United Arab Emirates.

HOT DOG ON A STICK®
Request Franchise Information
Visit Hot Dog on Stick Franchise
Hot Dog on a Stick® launched in California in 1946 on a beach in Santa Monica. In 1973, it opened its first mall location in Salt Lake City, Utah which is still in operation. Currently, there are 78 corporate owned stores and 14 franchise locations in the United States, as well as internationally in the Philippines and South Korea. The brand is most known for its fresh, made to order hot dog on a stick product, hand-mashed lemonade, smiling customer service, and of course, it's signature uniforms.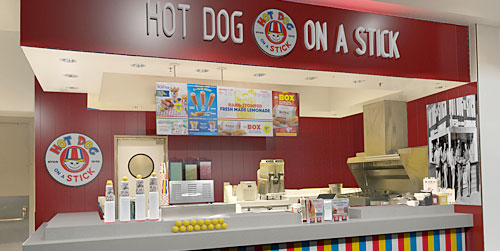 MARBLE SLAB CREAMERY®
Request Franchise Information
Visit Marble Slab Franchise
Marble Slab Creamery® is the innovator of the now-famous "frozen slab" technique for ice cream preparation. Since 1983, our stores have served chef created, super-premium, hand-mixed ice cream. Every batch of Marble Slab Creamery ice cream is fresh made in small batches in the store using dairy from local farms and ingredients from around the world. Today, Marble Slab Creamery is enjoyed by consumers across the globe with locations in Bahrain, Canada, Guam, Kuwait, Mexico, Pakistan, Puerto Rico, Qatar, Saudi Arabia, Singapore, United Arab Emirates and United States.
PRETZELMAKER®
Request Franchise Information
Visit Pretzelmaker Franchise
Pretzelmaker® introduced our famous soft pretzel in 1991 and it's been a twisted delight ever since. Today, Pretzelmaker stores offer a selection of hot, fresh-baked pretzels, pretzel bites, flavored pretzel bites, pretzel dogs, mini pretzel dogs, freshly squeezed lemonade and creamy blended drinks. Pretzelmaker maintains the quality and consistency of products by producing the pretzel mix from its plant in Atlanta, GA. Pretzelmaker franchisees capitalize on the increasing consumer demand for high-quality on-the-go snacks. We are rapidly expanding worldwide with locations in the United States, as well as internationally in Canada, Guam, Saudi Arabia and Qatar.
ROUND TABLE PIZZA®
Request Franchise Information
Visit Round Table Pizza Franchise
Round Table Pizza® was founded in 1959 by a Navy veteran who just couldn't find enough good pizza in the San Francisco Bay Area. Today, Round Table is an iconic West Coast brand with over 450 locations open and under development in the Western United States and a handful of International locations, including 70 company-owned locations. We've achieved cult status by creating a family-friendly pizza franchise that remains committed to high-quality ingredients, traditional recipes and innovative new menu combinations.